Unveiling the Symbolism of Washington, D.C.
Have you ever asked yourself…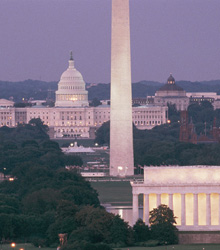 Why is the Lincoln Memorial shaped like the Parthenon?

Why is the Jefferson Memorial located where it is today?

Why is the official monument of President George Washington in the shape of an Egyptian obelisk?

Why are the streets of Washington laid out in a specific way?

Why is the Statue of Freedom facing East?
> Read what others have said about the excursion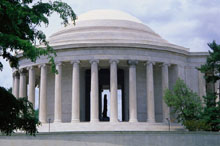 Learn the answers to these questions on an excursion of Washington, D.C. conducted by experienced and professional guides, as Capital Communications Group (CCG) lifts the city's mysterious veil of symbolism to new and returning visitors.
"The most engaging city excursion that I have ever experienced."
–Bern, Switzerland
Washington, D.C.—the capital of the United States – is filled with inspiring symbolic ideals, hidden treasures awaiting discovery by those new to and familiar with the city. CCG's unique city excursion – customized to meet the needs of your group—shows how this city's design, layout and architecture reflect, through symbolism, the philosophical ideals and concepts that are the foundation of American government.
"Your use of the physical layout of the city and the use of symbolism to reinforce the nature of American values and culture was both fascinating and original."
–Washington, DC

Bringing the monuments and memorials to life.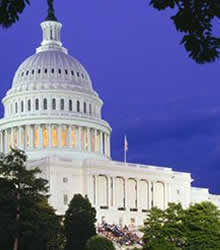 Visitors to the Federal City learn from an original interpretation of the symbolism of the city, based on original research, as they tour the city's landmarks.
CCG's interactive excursions of Washington, D.C. are tailored to each client's needs and interests, with special themes incorporated upon request. Ranging from three hours to a full day, each excursion is designed to deliver an educational, intriguing and enjoyable experience that will enable participants to experience the city in a new way.
Featuring comfortable, reliable transportation, friendly and professional guides, and unparalleled attention to detail, our guests immediately experience our commitment to quality and customer service.
Thank you for a delightfully educational session and excursion of Washington, D.C.
–Fiji

Selected organizations that have worked with CCG.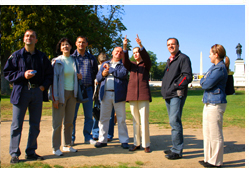 You're in good company when you select Capital Communications Group for your group's excursion of Washington, D.C.
Academy of Educational Development
AFL-CIO
Delphi International
European Commission
Federal Republic of Germany
Ferguson Group
Government of Japan
Indiana University
Institute of International Education
Meridian International Center
Mississippi Consortium for International Development
National Council of International Visitors
Natural History Society – India
Phelps Stokes Fund
Republican National Hispanic Assembly
U.S. Department of Justice
U.S. Department of State
United States Information Agency
University of Iceland
> Comments from past clients.